Irina Amzashvili
Dancing has always been a passion for Irina, her expression completely and boundlessly inspired by music. She began learning Lindy Hop in 2009 at the age of 15 and fell in love with it after her first night of social dancing. Shortly thereafter, her passion for Swing dancing expanded to include Balboa, Collegiate Shag, and solo Jazz. Since her start in Orange County, CA, Irina has taught these dances all across the U.S. as well as Europe, Asia, and Australia. As a teacher, her goal is to patiently guide her students through building solid foundations and technique as well as inspiring individuality in personal movement. Irina's greatest joy as a teacher is to see her students progress with their dancing, no matter the increment.
Anthony Chen
Anthony first started dancing at age 8 when his parents convinced him to learn and perform Chinese lion dances. As a young teenager he stumbled upon breakdancing, which kept him out of trouble until he found his true love in swing. Since then, he has trained in several other dance styles, but most of all he enjoys using this background to expand upon his technique and creativity in Lindy Hop. On the social dance floor he is known to be playful, musical, creative, and clear.
He holds first place titles from events such as Lindyfest and Lone Star Championships, Montreal Swing Riot, Ultimate Lindy Hop Showdown, Lindy Focus, Camp Hollywood, and International Lindy Hop Championships. Combined with his professional background in education, his love of both leading and following have been instrumental to making the classes that he teaches both clear and intuitive. He is an active scene builder in his community and founded Salt City Swing, where he teaches locally.
Ben White
Ben White has been addicted to all things swing since 2004. He has studied Lindy Hop, Balboa, Tap, and Solo Jazz dance under masters from the original swing era and worked with world class contemporary swing dancers. He has had success both locally and internationally as a competitor and coach placing in contests such as The International Lindy Hop Championships, the National Jitterbug Championships, Camp Jitterbug, and many more. He has also been involved in more than 100 productions as a performer, producer, choreographer, and technician.
Ben is well known for his clear instruction and ability to break down and communicate technique while keeping classes entertaining and engaging. He is the Artistic Director at The Syncopation Foundation, and frequently teaches swing dance all over the world.
Ariel Goh
Ariel Goh found swing dance in 2010 and never looked back. She currently travels the world teaching and performing, and holds competition titles at the International Lindy Hop Championships, Camp Jitterbug, Lindy Bout, Midwest Lindy Fest, Inspiration Weekend, Torino Swing Festival, and more.
When at home in Seattle, she teaches weekly classes in lindy hop, charleston, balboa, and solo jazz dance through The Syncopation Foundation. She also instructs swing dance at the University of Washington and coaches two performance teams.
As a teacher, Ariel prioritizes clear and detailed instruction, an inclusive classroom setting, connection to the music, and a foundation in the history of the dance. She loves helping dancers find their individual voices within partnerships, as well as express themselves through solo dance! Her teaching specialties include deep partner connection technique, conditioning & fitness for dancers, and solo jazz choreography.
Ariel is a firm believer that you don't have to have prior dance training to excel in swing dance. Her own movement background includes martial arts, weight lifting, barre-style fitness, and boffer LARP.
Dee Daniels Locke
Dee started Swing Dancing at the age of four with her Dad in the basement, wearing her Mom's heels and her favorite plaid skirt. With a hiatus into hip-hop during her school years, she was called back to Lindy Hop, and co-founded her college swing dance club. She has became an influential member of the Minneapolis scene. For over a decade she's shared her love of Lindy Hop with dancers young and old, teaching and dancing nationally at swing dance events.
Dee loves feeling free on the dance floor and advocates for self-expression and individual creativity as the true spirit of Lindy Hop and Vernacular Jazz. She dances for joy, and in either partnered or solo dancing, searches for presence in each moment. She loves responding to the music and partner, priding herself on making each dance unique to the musical experience and partner, creating an authentic dance conversation.
She has taught, performed, and choreographed nationally and internationally, but mostly she wants to have a good dance. You should ask her, she follows and leads and wants to dance with you.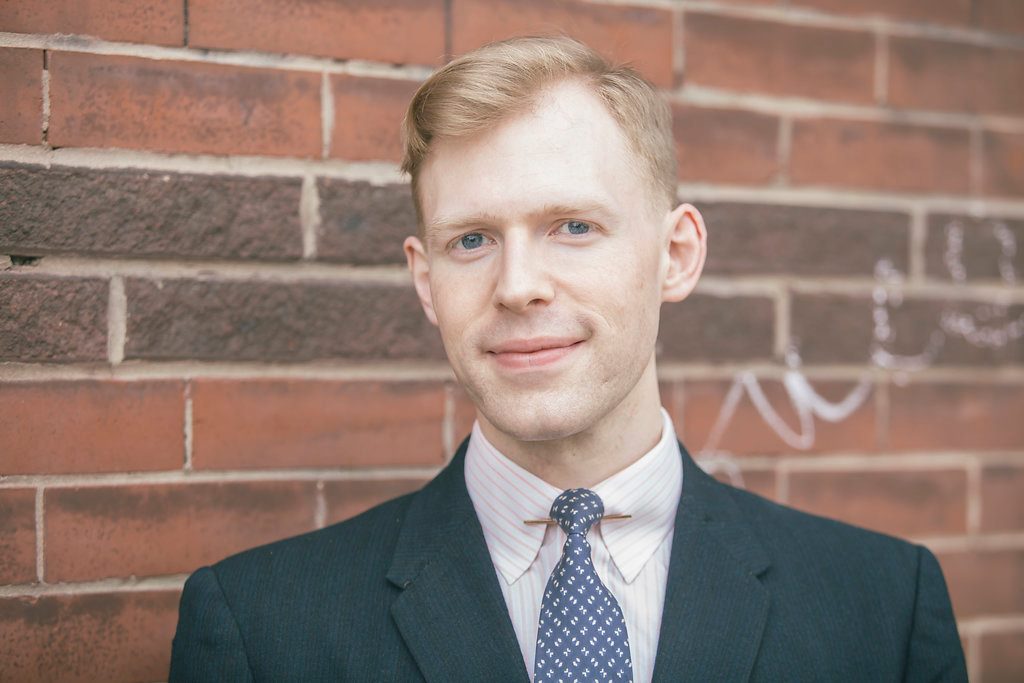 ChRISTIAN FROMMELT
Christian Frommelt is a swing dancer and musician from St. Louis, Missouri. As a teacher, organizer, and social dancer, Christian has dedicated his life to bringing people together through music and dancing. His unique style blends an emphasis on traditional swing movement and a highly personal character. In addition to his renown as a lindy hop and solo jazz dancer, Christian is the foremost aficionado of St. Louis Shag, which he learned in his hometown from original jitterbugs. Some of Christian's proudest accomplishments include winning the final two Ultimate Lindy Hop Showdown Battles in New Orleans, Louisiana and placing several years for choreography at the International Lindy Hop Championships with partner Jenny Shirar. Christian is the co-organizer of the renowned Nevermore Jazz Ball & St. Louis Swing Dance Festival, and plays piano in area jazz bands.
Charlie & Rebekah Decavita
Charlie and Rebecka, a.k.a The DecaVitas, or the DecaVita Sisters, are world-renowned dancers specializing in authentic Swing and Jazz Age dances. They have been teaching and performing together since 2006, competing since 2008 and are today among the top names in the international Swing Dance scene. Charlie and Rebecka are currently based in Stockholm, Sweden but spend about six months every year on the road, they have worked on six continents in more than 20 countries. The DecaVitas have won several major competitions, are founders of performance troups and have many years of experience in coaching and choreographing group routines. Together they are known for their dynamic, creative and unique dance style. As two of the most liked and yearned for Lindy Hop instructors world wide, Charlie and Rebecka strive to teach great technique in a way that is positive, coherent and productive. They particularly value the art of leading and following, believing that leaders and followers require equal amount of information in the
In 2016 The DecaVitas entered a new era in their lives as professional dancers. Charlie and Rebecka decided to focus more on the artistic aspect of the dances that they love and less on competing. They are constantly learning, creating and developing their dance with endless curiosity and conviction that there is more to be discovered!